Cannot create interactions
---
Note: This article applies to PureCloud Embeddable Framework, PureCloud for Chrome, PureCloud for Firefox, PureCloud for Salesforce, and PureCloud for Zendesk.
Under Menu , you clicked New Interaction and received the following message: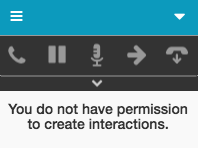 You do not have a phone selected and do not have permission to create emails or SMS messages (or both). To create non-voice interactions, you must be a member of a queue and have the correct permissions. All outbound interactions on behalf of queues require permission to view queues (Routing > Queue > View). For more information, see Add members to the queue and Administrator requirements.
For more information about the integrations, see About the PureCloud browser extensions, About PureCloud Embeddable Framework, About PureCloud for Salesforce, and About PureCloud for Zendesk.
---