Call on behalf of queue in Genesys Cloud CX Utility
Feature coming soon: Genesys Cloud for Salesforce Service Cloud Voice
To make an outbound voice call related to a queue, you must select a queue from the list.
To call on behalf of a queue:
Open the Genesys Cloud CX Utility window, click the icon and select Queue from the list.
In the Search queues box, type the name of the queue. As you type, a list of queues that matches the queue name appears.
Select a queue from the list.
(Optional) Select Remember Queue to remember the queue as the last selected queue in the utility.

Use this configuration when you want to place multiple interactions on behalf of the same queue.
Stop making a call on behalf of a queue
To stop working on a queue to make a call, click the icon next to the queue.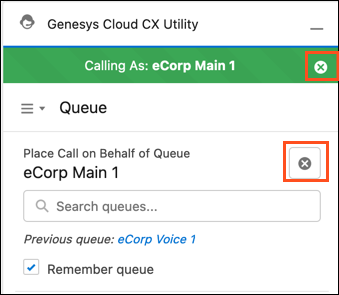 Note: If no queue is selected and you make a call, the call is made on behalf of the previously selected queue that is set to be remembered. Unless the Remember queue option is selected, the call is not made on behalf of any queue.