Invalid phone number
---
Note: This article applies to PureCloud Embeddable Framework, PureCloud for Chrome, PureCloud for Firefox, PureCloud for Salesforce, and PureCloud for Zendesk.
When you enter a phone number in the Forwarding Number box that has an incorrect number of digits for the country selected, you receive the following message: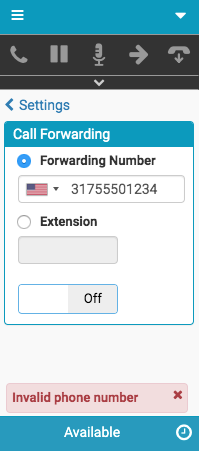 Check the phone number that you entered, fix any errors, and click Off.
For more information about the integrations, see About the PureCloud browser extensions, About PureCloud Embeddable Framework, About PureCloud for Salesforce, and About PureCloud for Zendesk.
---