Failed to enable call forwarding
---
Note: This article applies to PureCloud Embeddable Framework, PureCloud for Chrome, PureCloud for Firefox, PureCloud for Salesforce, and PureCloud for Zendesk.
When the client encounters issues enabling call forwarding, for example, because you added an extension that does not appear in PureCloud or the service timed out, you receive the following message: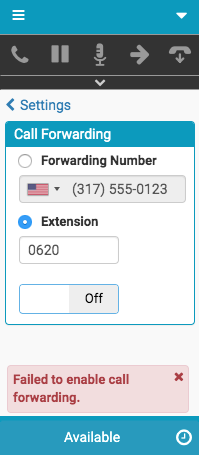 Check the extension that you entered.
Fix any errors and click Off.
If the extension is correct, then the service timed out or encountered other issues. Click Off again.
For more information about the integrations, see About the PureCloud browser extensions, About PureCloud Embeddable Framework, About PureCloud for Salesforce, and About PureCloud for Zendesk.
---