Menu controls in the CX digital agent workspace
Menu controls allows you to customize the workspace, listen to recordings, set hotkeys, get online help, change password, and inspect your personal reports.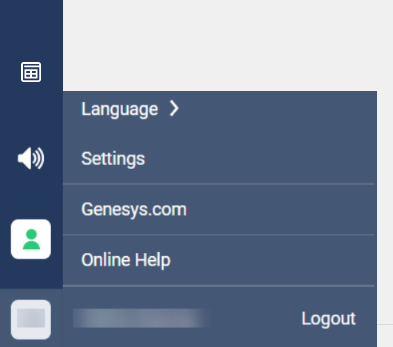 Click Language to choose the language of your Desktop. Currently available options are: English, German, Spanish, French, Canadian French, Italian, Hungarian, Dutch, Portuguese, Chinese, and Korean.
In Settings, you can set if you want to confirm the end of chats, messages and e-mail threads, and set keyboard shortcuts.
Genesys.com navigates you to the Genesys website.
Online Help navigates to the online community portal.
Click Logout to log out of the CX digital agent workspace.
Supervisor's workspace
Click the Supervisor's workspace icon to access queue activity and performance data.
For more information, see Queues Activity Summary view.